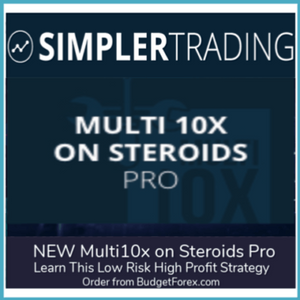 Simpler Trading – NEW Multi10x on Steroids Pro
$199.00

$199.00

Save $3,683
---
---
Simpler Trading – New Multi-10x on Steroids Pro Package – NEW! 2019 November-December version! \n
\n \n
Original website:
 www.simplertrading.com/multi-10x/ \n \n
Indicator:
 simplertrading.com/10x-bars-indicator/ \n \n
Original price:
 $3,882 \n \n
Content:
 Full Course pack (for Think or Swim platform) \n \n
The indicators are for Think or Swim platform!
\n
\n
Multi-10x Class Indicator Training (video, txt)
\n
Multi-10x Class Live: Day 1, 2, 3, 4 (videos, txt)
\n
Multi-10x Strategy Class (videos)
\n
ST Multi-10x Course Indicators (10x Indicator TOS, HOLB_LOHB Indicator TOS, Multi-10x Indicators–Scans)
\n
\n
Content images:
\n \n
\n \nDescription: \n
\n
\n
Multi 10X Indicator
\n \n
---
\n \n
\n \nWe use the 10X Bars as a way to quickly understand the trend quality and strength based on a more complex underlying calculation of the ADX and DMI. The 10X Bars takes the calculation that we would have to normally had as a separate set of indicators and puts that information directly on your charts so the decision-making becomes simple. \n \nThe 10X Bars works as a nice complement to the Squeeze as they can serve as confirmation to stay in a trending chart or as an early sign to GTFO (Get The Funds Out). \n \nCombining the information from 10X Bars with volume further strengthens the signal because, as John Carter says, "Momentum + volume is magic." \n \n
\n
Available On: Think or Swim
\n
\n
\n
\n
\n
How Do We Use It?
\nThe 10X Bars Indicator was developed by Simpler as a way to understand trend quality and strength. \n \nThe 10X bars will plot green, yellow, or red based on the underlying calculation of the ADX and DMI indicators. \n \nGreen bars indicate conviction and trend to the upside. \nRed bars indicate conviction and trend to the downside. \nYellow bars indicate no strong directional conviction. \n \nBars that show a dot indicate 30% above average volume on that timeframe, indicating stronger conviction to the trend. \n \nFor yellow bars, we want to either avoid those setups or trade them in a non-directional manner until directional conviction is established. \n \nWe want to trade in the direction of the 10X Bars as that gives us the best probability of success in a trade. \n \n
\n
\n
\n
The 10x Bars Indicator
\n
\n
\n
\n
\n
\n \nThe 10x Bars Indicator \n \n \n
\n
\n
\n
\n
\n
\n
\n \nUse the same 10x Bars indicator behind John Carter's famous $1.4 Million TSLA Trade. \n \n
\n
\n
\n
\n
\n
\n
\n \nThis is a one time offer for John's 10x Bars Indicator. Use the tools he's using in order to get in earlier on more, bigger, and faster high probability setups. \n \nKnow whether to look for explosive buy setups, implosion sell setups, or to stay out of 'fake out' congestion zones. Plus, know when volume is at least 50% above average to identify moves with home run potential. \n \nBelow, you will see the following chart which is one of my actual trades (no 'hypothetical results' here). Here's a chart of my biggest '10x Trade' ever… \n \n
\n \n
\n
\n
\n
\n
\n
\n
---
We Also Recommend
---